NEWS & EVENTS
November 4, 2011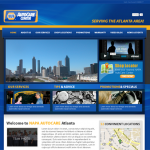 We got a new look! The NAPA AutoCare Centers of Nashville, TN has launched a new website. We understand that the web is taking over how our customers are looking for services and so we wanted to make it easy for you to find us. With over 52 shop locations in the Metro Nashville area, you'll be able to find the right NAPA AutoCare Center with just a few clicks.
Feel free to browse around our new website and let us know what you think. Please come back frequently to check out the latest news, photos, advice & promotions.
By taking your vehicle to a NAPA AutoCare Center, you're getting the best of both worlds. All of our AutoCare Centers are independently owned shops that take pride in its community and customers while still being backed up by a national warranty and the trusted NAPA brand.
This entry was posted in news_events. Bookmark the permalink.
November 1, 2011
November is here and we'd like to use this opportunity to put a spotlight on one of our member's shop. NAPA AutoCare of Nashville prides itself on providing quality automotive services to Nashville and the surrounding area. Each month, we'd like to tell you about one of our members and showcase the hard work they put into giving you the best service possible.
Shop of the Month:
Location:
Website:
ABC shop has been a leading auto repair shop in Nashville, TN for over 10 years. ABC Shop takes pride in giving its customers honest, great service. They invest in the latest equipment to diagnose and repair your vehicle right on the first try. With a team of dedicated ASE-certified technicians, you know you're in good hands when you service your vehicle at ABC Shop.
ABC Shop believes in staying ahead of the curve. They've utilized the web to broadcast their shop and connect with their customers. By having a website that offers useful advice and important information, visitors can quickly find the answers to their questions or set an appointment. ABC Shop also actively use Twitter and Facebook by promoting discounts and contests for its social network. This proactive attitude along with quality customer service is the reason why we chose ABC Shop as the Shop of the Month!
This entry was posted in news_events. Bookmark the permalink.