2800 Nolansvile Rd
Nolensville, TN 37211

888-264-2104

7215 Nolensville rd
Nolensville, TN 37135

615-776-3282

5137 Harding Pike
Nashville, TN 37205

615-352-4230

355 Red River Rd
Gallatin, TN 37066

615-452-2552

3006 Hydes Ferry Rd
Nolensville, TN 37211

615-254-7033

1931 Church Street
Nashville, TN 37203

615-327-9333

3422 Lebanon Pike
Hermitage, TN 37076

615-885-6439

847 Hillwood Blvd
Nashville, TN 37209

615-352-8434

11309 Lebanon Road
Mount Juliet, TN 37122

615-773-2166

441 East Division Street
Mount Juliet, TN 37122

615-758-1515
Welcome to NAPA AutoCare Select Service Centers of Nashville!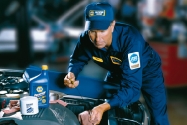 The Nashville NAPA AutoCare Select Service Centers are a group of independent & family owned businesses. We work together to ensure that we provide you with the best auto repair services in your area.
Maintaining and repairing today's vehicles can be a pleasant experience when you deal with professionals. Your local NAPA AutoCare Center team can recommend a preventive maintenance program that is right for each vehicle your family owns, saving you time and money in the long run.
In addition, the Nashville NAPA AutoCare Select Service Centers offer promotional specials which are available only at NAPA AutoCare Centers in the Metro Nashville, TN area.
Our Mission Statement
To increase the NAPA AutoCare Brand Awareness in Nashville while enhancing the service we provide by sponsoring training for technicians, service writers and owners.
National Warranty
All NAPA AutoCare Centers offer a 24 month/24,000 mile nationwide "Peace of Mind" warranty that is supported by over 13,000 AutoCare Centers across the country.